Leading the future of on-the-go retail.
We give our customers a strategic edge by uniting data and consumer insights with the best brands, sourcing, merchandising and logistics expertise.

Our story: we're better together.
Our unique stable of iconic brands began 50 years ago with Solaray. Since then, we've added innovative companies, products and services—along with an unrelenting commitment to our customers—becoming a top full-service provider of retail merchandise across the US and Canada.
Solaray launched, offering a variety of products for the convenience industry.
Fiesta was formed to provide an imaginative world of plush animals, and is acquired by SRP In 2017.
PUGS is created and becomes known for its iconic logo and stylish sunglasses.
Originally known as Video Cube and then AVN, Creative Planogram Company (CPC) was started and joined the SRP team in 2017.
SNI was founded and introduced its Cloudz, B-Iconic and M.C. Sweets brands. SRP acquired SONI in 2017 and gained entry into airports and travel channels internationally.
AES began, and after several successful licenses of Mossy Oak in 2004 and Realtree in 2005, was acquired by Solaray in 2006.
Global Eyewear is founded, becoming a leader supplier of eyewear products to theme parks, attractions and resorts. Hoffco Brands also launches, bringing innovative product lines to the Truck and Travel market.
solaray and PUGS join their companies together to create SRP Companies.
Global Eyewear Is the first company acquired by SRP, broadening our reach and product mix into Resorts and Theme Parks.
Hoffco Brands, Creative Planogram Company, Fiesta, and Golden Isle are acquired by SRP. Global Eyewear, Swibco and TNP merge into one company, further expanding our ability to provide a broad variety of products and distribution services. SRP goes international with CPCs conversion to SRP Canada, servicing thousands of stores and retailers.
Aerial Bouquets a speciality gift and balloon supplier to the grocery industry joins the SRP family of companies.
SRP Companies changes name to SRP Strategic Retail Partners.
Acquired Distributions Franco in February of 2022 to expand Canadian territory coverage with a variety of new brands and services.
Completed asset purchase of MobilEssentials in February of 2022 adding quality brands while growing SRP's presence in the grocery, restaurant and variety channels.
Key locations
We have corporate offices and distribution centers all across the United States and Canada.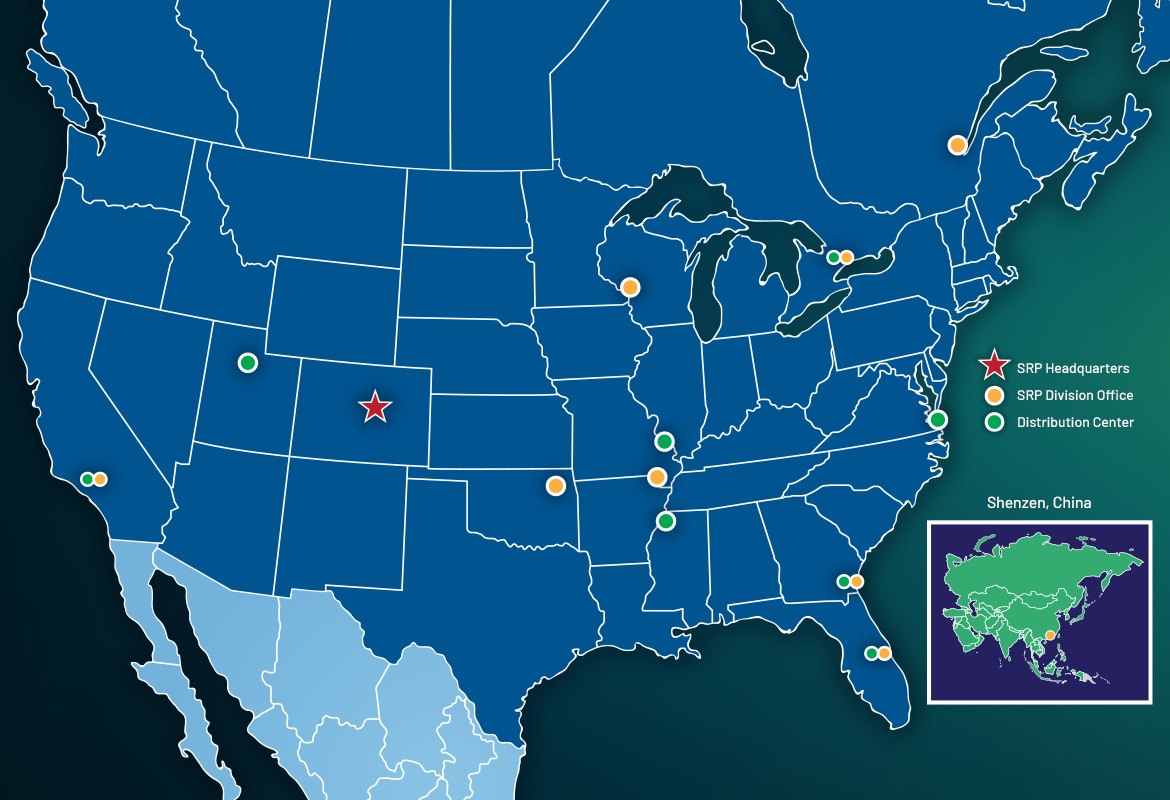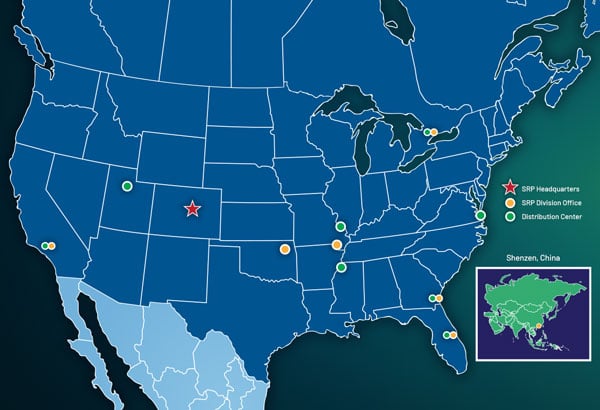 Leadership Team
Darrin Eisele
Chief Executive Officer
Darrin Eisele
Chief Executive Officer
Darrin co-founded Pugs in 1984 and grew it as one of the largest players in specialty category management for the convenience store channel. Pugs eventually combined with Solaray to form SRP. Darrin has led significant growth at SRP through the development of scan-based trading offerings and a harmonized product suite. He partnered with Aurora in 2016 to invest in his vision of offering platinum level category management to customers and to significantly accelerate SRP's acquisition program.
David Foster
Chief Financial Officer
David Foster
Chief Financial Officer
David joined Strategic Retail Partners in June of 2018 as Vice President of Finance, then became the Chief Financial Officer in 2020.
Before his roles at SRP, David co-founded Everytable—a Los Angeles-based social enterprise focused on food access. His deep finance experience also includes management roles at Groceryships, Aurora Capital Partners, and Credit Suisse.
David's role as CFO involves identifying areas of need to ensure growth. He was recently instrumental in developing a financial response to COVID-19 and helping make 2020 the best year in SRP's history.
David graduated from the University of Michigan with a degree in business administration.
Quentin Jaksch
Chief Information Officer
Quentin Jaksch
Chief Information Officer
Quentin Jaksch joined SRP in January 2017 as Chief Information Officer. As CIO, Quentin oversees a team responsible for driving direction and innovation using the latest technology.
Previously, Quentin was the head of QeH2, an IT consulting firm that serviced small and medium-size businesses with standard IT support and CIO services.
In his time at SRP, Quentin built and coded the first palm OS application and integration with the ERP platform of the time, and also assisted the organization in servicing thousands of 7/11 stores with custom automation that is still a part of SRP's process architecture today. Additionally, he developed the Unified Management Portal to assist in future monetization of core technologies leveraged by SRP, as well as allowing the use of business logic and mobile tools with our other divisions like SRP-C.
Quentin graduated from Metropolitan State University of Denver with a degree in Management Information Systems and Business Management.
Chris Rullman
Chief Administrative Officer
Chris Rullman
Chief Administrative Officer
Chris Rullman is SRP's Chief Administrative Officer having most recently served as SRP's Chief Human Resource Officer. Chris is a proven executive with over 25 years' experience designing, leading, and executing successful organizational operations to deliver increased revenue, profit, and employee engagement.
At SRP, Chris oversees Human Resources, legal, insurance, sustainability, facilities, fleet management, corporate purchasing, and travel, learning & development, talent acquisition, and environmental health & safety (EH&S).
Prior to SRP, Rullman was head of human resources for Wide Open West internet cable and phone in which he was responsible for all aspects of human resources including talent, compensation, benefits, organization and leadership development and employee relations for 3,000 employees across 11 states. Chris also served in various leadership roles at Comcast and Protection One.
Chris has a dual bachelor's degree in marketing and human resource management from the University of Idaho, and an MBA from George Fox University.
Start building your career at SRP® today
We're currently looking for motivated, talented team members across the retail industry. Come see why the most passionate people choose SRP® as their home.